Take a meandering 20-minute detour off US Route 30, in New Paris, Pa., and you'll find a lonely stretch of road known as Gravity Hill. Here your car will appear to defy gravity, rolling uphill on a downhill slope.
Once you find Gravity Hill Road, you'll see the starting point spray-painted on the road. Put your car in neutral and take your foot off the brake. Here's what happens:
Want to know the secret? It's an optical illusion.
Gravity Hill is located about midway between Pittsburgh and Hershey, PA. While it may not be a destination unto itself, it's a great place for a pit stop if you're road tripping in the area. Here's an itinerary for a southern Pennsylvania road trip:
Spend a Few Days in Pittsburgh
Check out the beautiful Three Rivers area with its bridges and river-side walkways. If you want to be in the middle of the action in Pittsburgh, stay at the Hilton Garden Inn Downtown. It's right in the heart of Market Square where you'll find tons of excellent restaurants, local vendors, festivals and music, giant versions of classic games, and even yoga in the park.
For a beautiful view of the city of Pittsburgh, hit the Duquesne Incline. This cable car transports people to the top of Mount Washington. Restored in 1963, the Incline features original hoisting gear and cable cars that date back to the late 1800's.
I also highly recommend a visit to the Phipps Conservatory.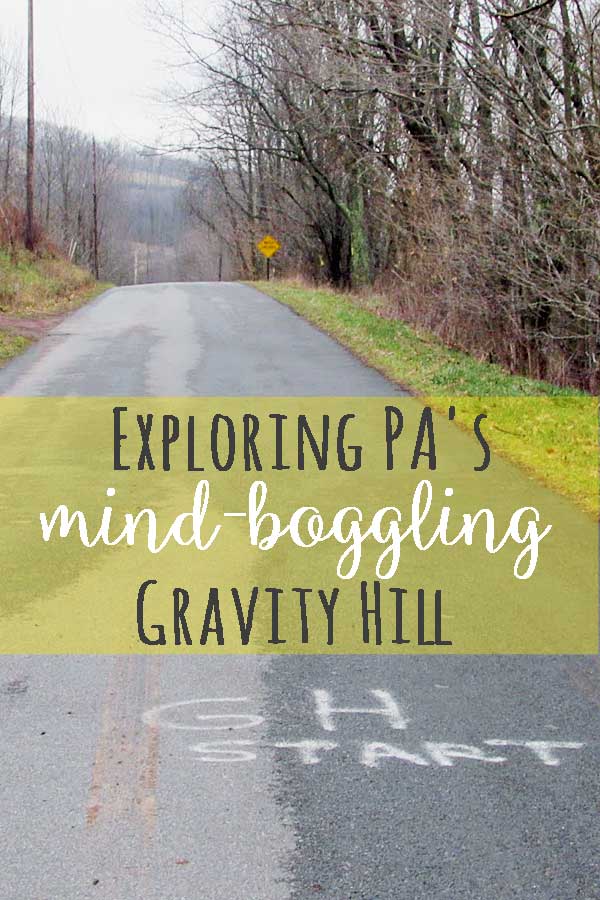 Then, take a scenic drive along Route 30 and make a pit stop at Gravity Hill on your way to Hershey.
Chocolate and Coasters in Hershey, PA
Hershey is known as "The Sweetest Place on Earth." You've got Hersheypark amusement park with its rides, awesome food, and water park. There's also Hershey's Chocolate World where you can purchase gigantic candy bars and even make your own! And you've got downtown Hershey where you'll find the Hershey Museum and Chocolate Lab.
I recommend staying at the Hershey Lodge, which goes all-in with its chocolate theme. Plan for 2-3 days to see everything in Hershey.
I hope this gives you some great ideas for a southern Pennsylvania road trip and a quirky pit stop at Gravity Hill.