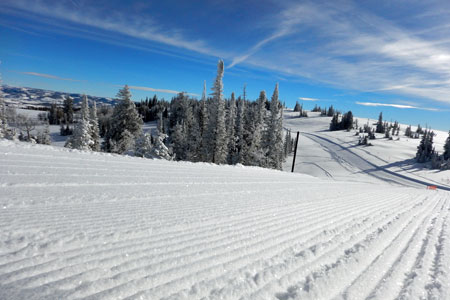 I usually get a little itchy in March. I'm not quite ready to be done skiing for the season. And with the abysmal winter we've had in the Northeast, there's not much snow to be found on the trails around here. That's why my husband and I were THIS CLOSE to booking a flight to Colorado, Utah or Tahoe to get in a little more skiing next week… But, alas, we decided to be responsible and pay some bills instead.
But my social media streams are chock full of photos and videos from the western U.S. resorts that are still getting pounded with snow. You can almost always count on at least one, big March storm to dump that sweet powder! If you're lucky enough to be headed out west, or if you live there, here are some spring specials and events at four of my favorite ski resorts:
Powder Mountain, Eden, Utah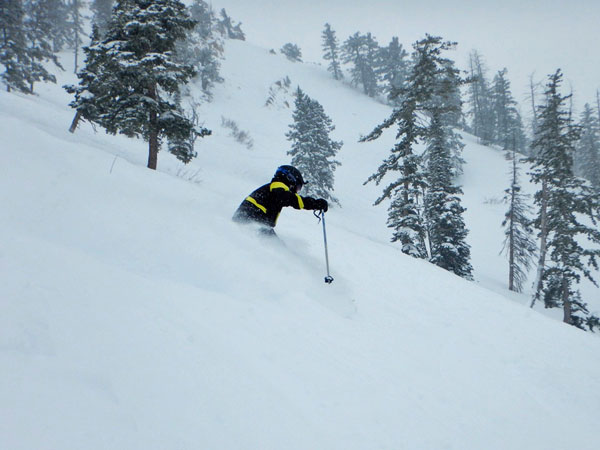 With a massive 7,200 acres, there is always untracked powder at PowMow. This hidden gem is about 55 miles north of Salt Lake International Airport, but a world away from your typical ski resort. The understated lodges, minimal lifts, and lack of crowds make Powder Mountain a paradise for those who truly love to ski and ride. They don't make snow, but they average 500 inches a year and just got a foot of fresh pow on top of an excellent base. PowMow will be open into April.
My favorite trail: Take a snowcat to Lightning Ridge for stunning views and a choice of wide open powder fields, huckable boulders and tight chutes. Absolute bliss. No, I don't launch over too many boulders, not on purpose.
Spring Events at Powder Mountain:
3/26: Spring Stampede – skier/boarder cross race for everyone!
4/2: Powder Daze – music, beer, food, and plenty of fun activities.
4/9: Red Bull Schlittentag – an on-mountain soap box derby. "Schlittentag" translates to "daredevils willing to propel themselves down a snow-covered hill and over a jump on a sled they built themselves."
Squaw Valley, Lake Tahoe, Calif.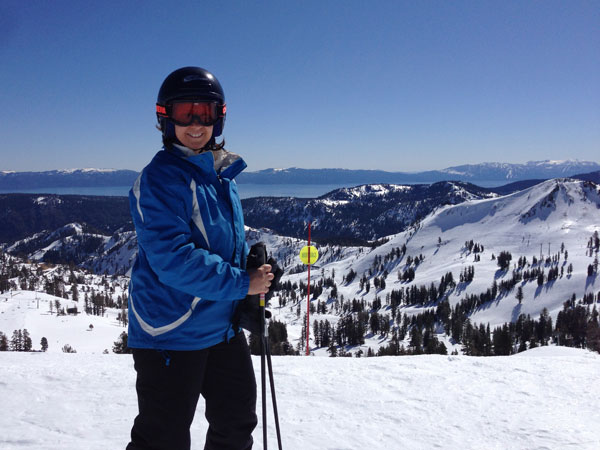 Spring skiing at Squaw guarantees sunny, bluebird days, soft snow and fantastic apres-ski activities. Squaw has received more than 10 feet of snow in March – you'll be skiing the famous KT22 well into April! The hot tub at High Camp opens April 2nd and there's nothing better than soaking in that hot tub at 8,200 feet overlooking the spectacular lake and Sierra Nevada mountains. Or hang out on the patio at Rocker and enjoy their brisket fries, jalapeno mac 'n cheese, and a cold beer.
My favorite trail: I gained a lot of confidence on Reuter's 6th. This is a blue trail where you can cut into the trees for a few turns and come back out, jump over some little boulders or go around then it gets steeper towards the bottom and narrows into a little chute before leaving you at the Solitude lift. Or skip the steep, turn left and head to the Shirley Lake lift.
Spring Special and Events at Squaw Valley Alpine Meadows:
Buy your 2016-17 Tahoe Super Pass and ski free this season starting April 1st.
Learn how to ski or snowboard for just $79 at Alpine Meadows Monday-Friday through the end of season for ages 13+. Includes lift ticket, rentals, and 2.25 hour beginner lesson.
Stay slopeside at the Village at Squaw Valley midweek with lift tickets starting from $265/night. Your room will be just steps from the slopes, eight outdoor hot tubs, and firepits throughout the Village – which I highly recommend!
4/1-3: Second Annual WinterWonderGrass Tahoe. A unique three-day event featuring world-class bluegrass and acoustic roots performances, craft breweries and local food vendors. The festival is hosting its first-ever Tram to Table Dinner at 8,000 feet on top of Squaw Valley.
4/9: 33rd Annual Snow Golf Tournament. Teeing off at 9 a.m., the nine-hole course starts at the top of Summit Express Chair at Alpine Meadows, with the last hole leaving golfers at the base of Alpine Bowl Chair.
4/16: 26th Annual Cushing Crossing. The iconic pond skimming event challenges participants to cross the chilly waters of Cushing Pond on skis, a snowboard, or any ski- or snowboard-based vessel – resulting in colossal crashes, ultra-creative contraptions and hilarious costumes, with the spectacle being judged by a celebrity panel.
Breckenridge, Colorado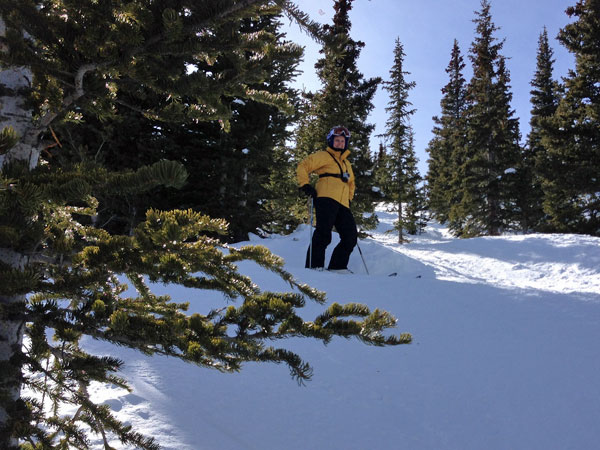 Breck's five peaks of terrain and the latest amenities like phone chargers in the Peak 6 warming hut plus a historic, western, walkabout town make it the perfect place for spring skiing. With so much snow, steeps like Mach One and Devil's Crotch are sure to be open on the sunniest days. And when it's time to take a day off the slopes, try dog sledding with Good Times Adventures or take a ghost tour to learn about Breck's history and send some shivers down your spine! Be sure to get a crepe from Crepes a la Cart – there's always a line, but it's absolutely worth it for the best crepes you'll ever have!
My favorite trail: Ore Bucket at Peak 7 for terrific tree skiing that's do-able for an intermediate skier!
Spring Specials and Events at Breckenridge:
The month-long Spring Fever festival features great bands starting at 3pm at the Peak 8 base every weekend from now until the end of April.
Great Western Lodging is offering up to 30% off spring lodging April 3-30 (closing day is April 24). In addition to the standard spring discount – 15% off 3 nights, 25% off 4-7 nights, 20% off 8+ nights – guests can receive an additional 10% off when they book online at http://gwlodging.com. Check out One Breckenridge Place for huge, luxury units (most with private hot tubs) or Trails End for smaller, affordable units – both offering excellent access to the town and mountain.
Steamboat Springs, Colorado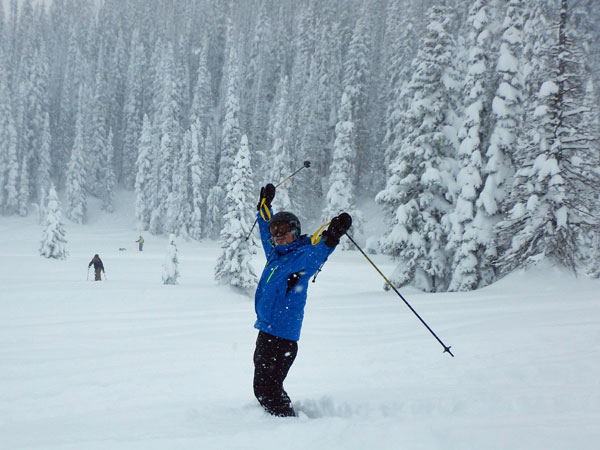 Steamboat is known for its long tree runs through gorgeous Aspens, and whether it's the spring sun or dumping with more powder, the trees are sure to please. This season, Steamboat is experiencing one powder day after another! I'm a sucker for a great ski town and, like Breckenridge, Steamboat Springs has western ski town charm in spades. Eat at the Ore House and be sure to get their "house potato" – shredded red potato, seasoned and formed into a ball, fried and topped with homemade cheese sauce. Delish! And don't miss visiting Strawberry Hot Springs to soak in the therapeutic waters.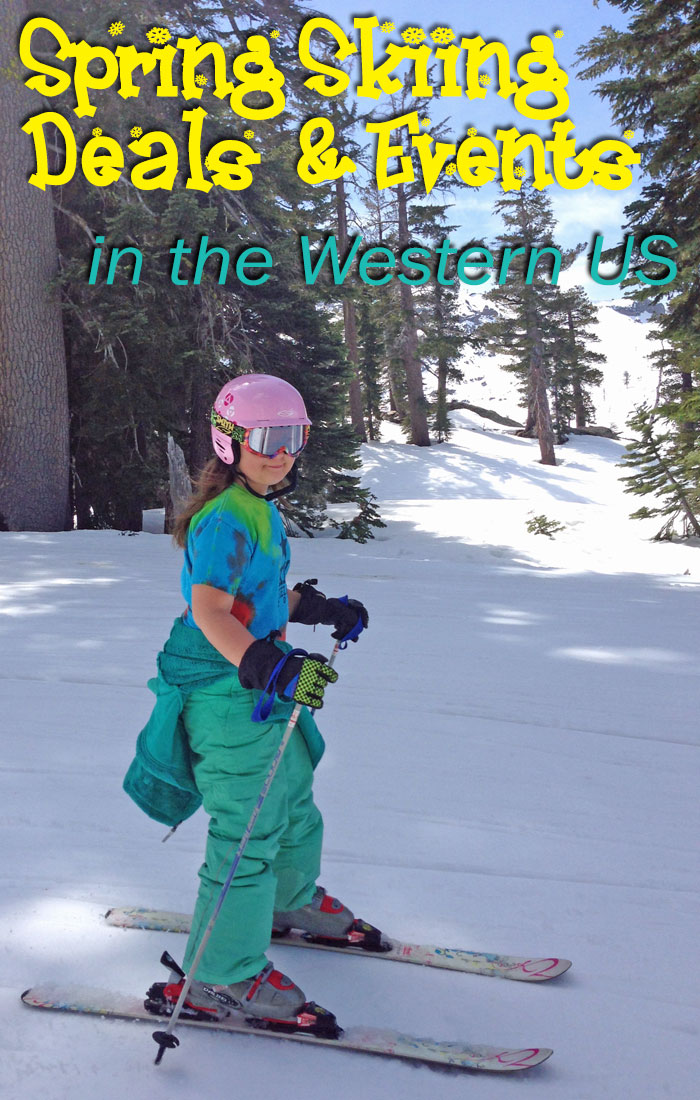 My favorite trail: Snooze Bar in Morningside Park. I had the best morning floating through the trees!
Spring Specials and Events at Steamboat Springs:
4/1-10: Springalicious Festival: Steamboat celebrates the end of the season with free concerts, the Cardboard Classic and Pond Skim Competition.
Springalicious Pass: 3 days of skiing in April for $119. This can be booked with the Springalicious package, which includes half off a second night of lodging as well as other discounts.
SnowSeeker Package: Includes two days skiing for $175, half off second night's lodging, discounts for additional ski/lodging days and more. Available through the end of the season.
Sun & Snow Package: 20% off lodging, lifts and rentals as well as a $300 resort credit for travel March 27 or later. Available through the end of the season.
April Double Dip Pass: Includes unlimited skiing at Steamboat and Winter Park for $179. Available April 1 to closing day.
100 Routes Across America also highly recommends Ski Butlers for your ski/board/boot rentals. They have excellent gear and customer service, and the convenience of getting your equipment delivered directly to your condo, house or hotel room is simply priceless.